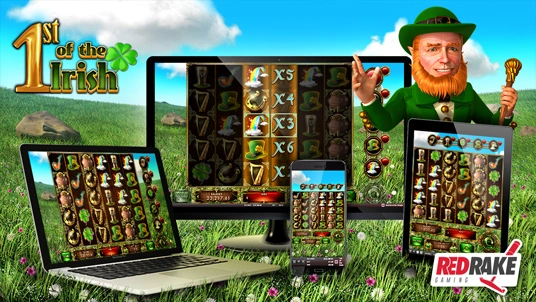 28/May/2020
1st of the Irish, the new cluster video slot from Red Rake
Red Rake Gaming has just announced the release of a new and spectacular game, a 6x5 reel video slot with a free spin feature where players can multiply their winnings.
1st of the Irish is a video slot loaded with different features, including bet multipliers, Wild symbols on one single reel, Sticky Wild symbols and a free spin feature with multipliers that players will find very appealing.

This new video slot has 5 meters that fill up bit by bit each time these symbols appear: pipe, beer, shamrock, hat and rainbow. These meters can all be filled up simultaneously to trigger various different features, and afterwards they can be filled up all over again to reward the player with even more wins.

Filling the Pipe Meter will release a symbol and a multiplier, allowing players to win an amount equal to their bet x the multiplier achieved x the number of times the symbol appeared.

Filling the Beer Meter will cause 9 beers to appear, which will then fill up and turn into one single symbol.

Filling the Shamrock Meter will make 4 Sticky Wild symbols appear in the reels to reward players with very exciting wins.

Filling the Hat Meter will add up to 8 wild symbols to one of the reels.

Filling the Rainbow Meter will launch the free spin feature. Each time the rainbow symbol appears during this feature it will fill up some of the side meter, and at the end of the feature players will multiply their winnings.

1st of the Irish is a comprehensive slot game loaded with features, and is available for all operators as of today, the 28th of May, on the new tournament tool launched recently by the well-known game developer.