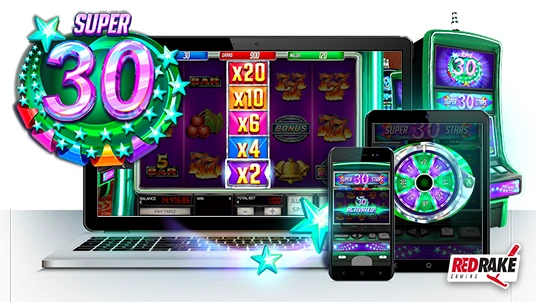 17/August/2023
A new video slot: Super 30 Stars
The innovative premium casino content provider, Red Rake Gaming, has enjoyed unprecedented success with each instalment of its Super saga, topping game lists worldwide — a feat the company hopes to continue with its latest release. These highly captivating games bring endless entertainment, with their uninterrupted action and a wide range of features, including multiple bonus features.
Red Rake Gaming has just released the latest addition to this well-known saga, "Super 30 Stars", which they hope will also be a big hit. This new instalment is guaranteed to bring excitement and be even more enthralling for players. This new video slot comes in the popular 5x3 reel format, with all the successful features of its predecessors. And if that wasn't enough, it also has an exciting new feature: the new "Super 30 Wild" symbol with a special multiplier bar. More features means more fun!

This symbol will appear on the reels randomly. Then, if activated, it will trigger the Super 30 multiplier reel, converting it into a full Wild with the chosen multiplier.

This game is also equipped with the following features, all of which are familiar to players and followers of this incredible saga: "Super 25 Stars Wild", where the excitement goes through the roof thanks to its side multiplier panel; the "Crystallize Symbol", accompanied by additional multipliers, only adds to the excitement on each spin; absorbing minigames, such as "Stars Fusion", "Lucky Stars" and "Frenzy Wheel", make this video slot even more dynamic and entertaining; and, of course, the free spins feature, where players can keep increasing their wins. All these features, as well as many others, make this a truly one-of-a-kind and exceptional game.
This new video slot adds to the already incredible saga, hoping to prove a big hit among players through its music and retro style. With its nostalgic charm and appealing features, it will capture a global audience seeking fun and entertainment.

The eagerly anticipated Super 30 Stars has finally been released today, 17 August, in all Red Rake Gaming casinos. The highly renowned casino game provider has also integrated this new video slot into its tournament tool, along with its other latest releases, to bring players even more excitement. This means that they can now experience all the fun and the ultimate adrenaline rush of playing Super 30 Stars while taking part in Red Rake Gaming's thrilling tournaments.

Will the Super series continue?...