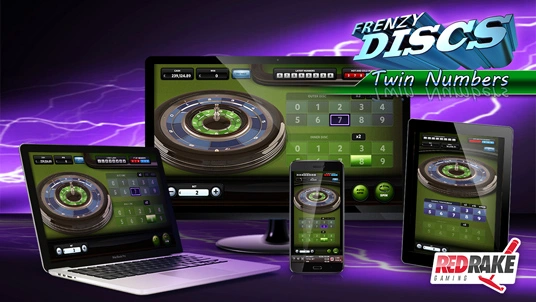 27/August/2019
Frenzy Discs - Twin Numbers and Roulette
Red Rake Gaming has added the innovative game Frenzy Discs and Roulette to their new releases.
The Valencian Company, Red Rake Gaming, wants to position themselves not only as a high quality casino provider but also they want to go one step further than their competitors and add never before seen innovative games to their repertoire. They have already done this, surprising the sector, with the first circular slot Wildcano, and now they are bringing out Frenzy Discs which leaves no one indifferent.


Red Rake Gaming introduces us to the innovative game, FRENZY DISCS with their first version Twin Numbers. Ultimately, it's a RNG game, but with a style influenced by the game of roulette. Frenzy discs: Twin Numbers gives the user the possibility to guess on which numbers the 2 balls will fall on the two spinning discs. With their spectacular graphics and extremely realistic physics, the player will be completely captivated, making them feel like they are in a real casino.


Frenzy discs: Twin Numbers is an easy game to understand and very fun to play. Initially Frenzy Discs is launching its version Twin Numbers, but very soon new versions such as 16 Balls shall be brought out, which is already available as a DEMO version.


Besides that, the month of August isn't only coming with the innovation of Frenzy Discs. Red Rake Gaming is also introducing the game of Roulette with 4 modes available: European Roulette, French Roulette, American Roulette and VIP mode. Roulette graphics in 3D, depending on which mode is chosen, offer a very real visual experience aimed at grabbing the player's attention. Also, the user's experience is enhanced thanks to the game's full or partial view options. Available now on our website: https://www.redrakegaming.com/roulette/


Just like other games from Red Rake Gaming, Frenzy Discs as well as Roulette have also been developed with HMTL5, which allows the user to play on mobile devices as well as on the PC, while maintaining an optimal level of accuracy and offering a great experience for the user. Also, both games are compatible with all major browsers and available in 22 languages, therefore offering a global reach in order to be present in every online casino.