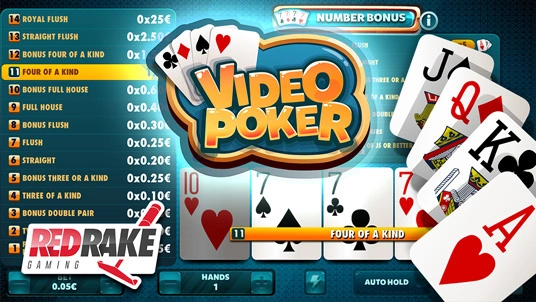 29/May/2018
New launch at Red Rake Gaming with its eagerly awaited Video Poker game
20 different modes to enjoy one of the most popular casino games in different ways.
Users can play anything from one hand up to 50 hands simultaneously. The player can choose the cards that they want to keep on the table and try their luck by attempting to get the winning hand in the game variety! Each of the 20 modes will have a hand that wins bigger prizes than in any other mode.

There is also an exciting mini game. Each time the player obtains a hand with a prize, they can multiply their winnings by two by choosing between red and black. For the players who like to bet big, they can choose between the 4 suits of the deck in order to multiply their prize by four!

Another of the big surprises is the launch on mobile devices, therefore players can enjoy the Video Poker anywhere, whether from a mobile phone or a tablet.

A lot of care and dedication has gone into this new release by the Valencian company, Red Rake Gaming, and once again what stands out is the quality of the graphics and playability, to the extent that you feel like you are in a real casino.