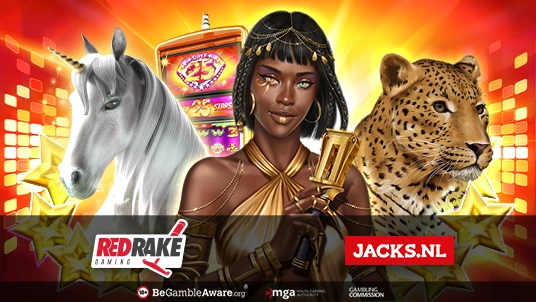 06/June/2023
Red Rake Gaming partners with Jacks.nl
Premium casino content supplier, Red Rake Gaming, has partnered with JOI Gaming who will launch in the Dutch market in June 2023 across JACKS.NL's players, further solidifying Red Rake Gaming's foothold in the Netherlands.
JACKS.NL will launch a diverse selection of Red Rake Gaming's localised top-performing games in the Dutch market, including its record breaking Super 25 Stars. This is one of Red Rake Gaming's non-stop, action-packed slot which combines feature games and bonus rounds from all its predecessors in the Super series of games, all of which have been very well received in numerous casino/arcade cultured markets. Additional titles from the Red Rake Gaming's diverse suite of games includes Lady Forest; giving players a million ways to win, Guardian of Ra, 2 Kings of Africa, and Medusa Hunt all of which continue to hold top spots across the Red Rake Gaming global network.


Red Rake Gaming continues to increase its Dutch presence with this new partnership, adding to its already large client portfolio. The feature-rich and engaging content is fast becoming a favourite among the Dutch players.


Nick Barr, Managing Director for Red Rake Gaming Malta, commented on the partnership stating: "We could not be more thrilled to partner with JACKS.NL, who are a dominating force in the Dutch market thanks to their player first approach and delivery of the best service to their players. We are very confident the Red Rake Gaming will play a strong part in JACKS.NL's continued growth and delighted to work with all the team at JOI Gaming."



Sjoerd Kranz, Head of Gaming and Retention at JOI Gaming, commented: "We are delighted to start offering the games of Red Rake Gaming to our players in the Dutch market. The experience, love and attention to detail the Red Rake team has put into their games is showing and converting into an optimal playing experience. Offering these games on JACKS.NL will enhance our portfolio even more and create a strong extension to the product offering on our platform."