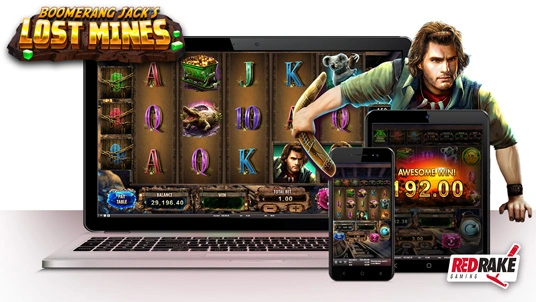 22/December/2022
Red Rake Gaming releases "Boomerang Jack's Lost Mines"
The innovative casino games provider Red Rake Gaming has just launched a new and action-packed 5x3 reel slot game, bringing you plenty of excitement from start to finish. Reveal the secret of the 3 gems and combine the 3 different free-spins features to land more wins.
A scene marked by sensational graphics, where Jack, the adventurous protagonist, travels to the incredible Kalgoorlie Mine in Australia in search of the 3 secret caves concealing his treasure. Join Jack on this remarkable adventure, discovering the secret of the gems and combining them in the free-spins features to take home all the winnings: 'Gem Coins', 'Diamond Wins' and 'Reel Expand'.


Combining green, red and blue gems will launch the combined free-spins features, as well as many other features within them:


· GEM COINS: The green gems increase the value of the direct-win coins and award an additional free spin. The gold coins award you with a direct win.


· DIAMOND WINS: The chests may contain extra spins, direct wins or diamonds that award the "Mini," "Minor," "Major" and "Grand" wins.


· DIAMOND WINS: Accumulate diamonds to earn the various wins from the panels.


· REEL EXPAND: The slot game changes to offer 5x5 reels and 50 paylines.


· COMBINED FEATURES: The different free spins features can be combined. If 2, or even 3 are launched randomly at the same time, you will enter a feature that combines all their respective features.


In a nutshell, it is a very comprehensive video slot, full of interesting features and accompanied by music that makes you feel as though you are on a real adventure.


"Boomerang Jack Lost Mines" has been released today, 22nd of December, across all Red Rake Gaming operators in all markets, and, like its previous slot games, has been included in its tournament tool.