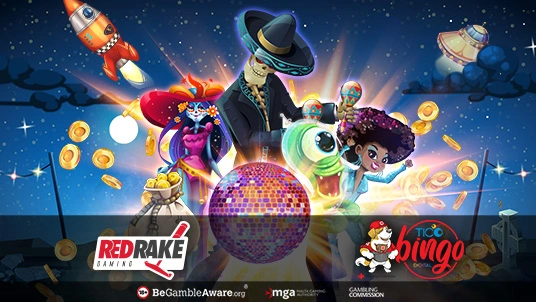 22/November/2022
Red Rake partners continues LATAM growth with Tico Bingo
Casino games specialist Red Rake Gaming is proud to announce a new partnership with Ticobingo.com, one of the largest Video Bingo brands in LATAM. Tico Bingo players can now enjoy access to Red Rake Gaming's most popular titles.
Ticobingo.com provides a unique experience to thousands of players by offering one of the most comprehensive portfolios of bingo games in the market. Tico Bingo's popularity is partly attributable to its player focused approach with dedicated loyalty programs to reward all their players with promotions and bonuses from the moment they join to ensure there is always something to enjoy.

The partnership will see Tico Bingo have access to all Red Rake Gaming's top performing Video Bingo portfolio, including the greatest hits 'The Gold of Poseidon', 'Planet 67', 'Mega Money', 'Muertitos', 'Disco Nights' and 'World Football'.

Nick Barr, Managing Director for Red Rake Gaming Malta, commented on the partnership stating: "We are thrilled to have partnered with Tico Bingo who have a significant following of players seeking the best bingo games in the region. As we have such a diverse portfolio of games including slots, video-bingo's, videopoker's and table games, we have game verticals for all our partners requirements and could not be happier to partner with one of the top bingo operators in LATAM. Our games have resonated with players across LATAM incredibly well and our exponential growth shows no sign of slowing down."

Tico Bingo, is more than a product, it is an essence, it is what Bingo represents, a fusion between playing, winning and helping at the same time, from the traditional to the innovative", commented Edmond Robinson Rubinstein, Operations Manager of TicoBingo.com.

"We have implemented a platform that combines and guarantees a high quality of entertainment and fun, with secure methods for the different transactions and user navigation. We have sought to generate an evolution of a game so recognized and loved in LATAM, to make it very accessible, easy to use, and that allows users to have maximum fun and win great prizes. With this great alliance with Red Rake Gaming, we are able to offer the most complete Bingo portfolio in LATAM, something we are very proud of," concluded Robinson.