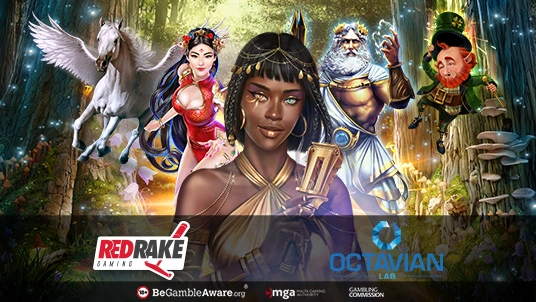 07/June/2022
Red Rake partners with Italian softwarehouse Octavian Lab
The Italian leading provider for the online betting and gaming sector, Octavian Lab, has further enhanced its offering by adding the leading Italian certified supplier, Red Rake Gaming.
Octavian Lab is a software house and service provider for the online betting and gaming sector operating in the Italian market. As a software house their core business is the development and improvement of their property software: Accounting Gaming Platform – AGP. One of their main services is reselling the best casino content providers through a direct integration to the Licensees that use their Aggregator solution.

The partnership will see Octavian Lab have access to the market leading games on offer from the Red Rake Gaming studio. Popular market titles including the Super Series games, which have non-stop action through its multiple features and bonus games, as well as the industry's first "1 million ways to win" genre of games, which is extremely popular among players from across the globe and is currently what dominates the charts in the Italian market.

This collaboration is yet another testament to Red Rake Gaming's continued commitment to create market leading localised content with player experience and engagement very much at the heart of its development. The partnership comes on the back of significant growth of the Red Rake Gaming content in the Italian market and provides additional opportunity to increase market share across the high value market.


Nick Barr, Managing Director for Red Rake Malta, commented on the partnership stating: "We are delighted to partner with Octavian Lab who are a force to be reckoned with in the Italian market with their wide host of Italian partners capitalizing on their innovative platform and extensive offering. Italy is one of Red Rake Gaming's top regulated growth markets this year and the collaboration allows for us to continue our growth in this key market. We are very much looking forward to working closely with the Octavian Lab team to provide the best localised offering to its partners."


Andres Galan, Sales Manager of Octavian Lab Octavian Lab, said: "We are delighted to have struck a deal with a leading developer such as Red Rake, which has a strong reputation. Octavian Lab is reaching new customers and increasing its footprint as never before, it's of utmost importance to strengthen our relationship with experienced suppliers like Red Rake. We look forward to working with them and hope to build a long and prosperous professional relationship."