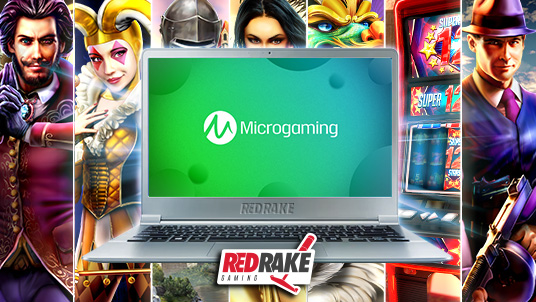 05/December/2019
RRG signs content distribution agreement with Microgaming
The well-known Spanish games development company, Red Rake Gaming, has just signed a new strategic agreement with Microgaming, one of the industry's leading software providers.
Red Rake Gaming will be integrating its top-performing slots and video bingos portfolio with Microgaming's award-winning platform, enabling its customers to access Red Rake Gaming's successful and engaging titles.

Red Rake Gaming is the provider of a broad portfolio of blockbuster slots such as Bonnie & Clyde, Tiger and Dragon, Knights, The Asp of Cleopatra, and one of the strongest titles of 2019, Super12Stars, which combines various features from the Super Stars series of games to make a non-stop, action-packed game that players love.
Red Rake Gaming's content is developed with players firmly in mind, which results in a plethora of varied mechanics, themes, metrics and feature/bonus games to ensure we have a selection of games for all players.

This collaboration falls in line with Red Rake Gaming's strategy of regulated market expansion and increasing its reach through the extensive positioning of Microgaming's market-leading platform in regulated markets.

Nick Barr, Managing Director for Red Rake's Malta operations, commented on this partnership, saying: "Microgaming are one of the most established providers in today's market, having built up a hugely successful global business. This partnership not only allows us to increase our market share in our existing regulated markets of Sweden, UK, Spain, Portugal, Italy and Romania, but opens doors to enter new markets, which are already under review, providing our clients with ease of access to our content to grow with their expansion strategies. We look forward to working closely with the Microgaming team and envisage a great partnership ahead."

James Buchanan, Director of Global Operations at Microgaming, added: "Microgaming boasts an ever-expanding portfolio of exclusive games, along with popular third-party content, supplied in more than 20 regulated markets worldwide, providing Red Rake Gaming with access to new territories and casino brands. We are delighted to enhance our library of diverse and innovative content with Red Rake's varied and popular slot offering. This collaboration signals our continued commitment to bring diverse and entertaining content to market."