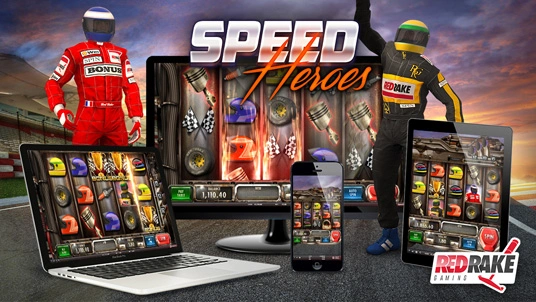 23/August/2018
Speed Heroes
Red Rake Gaming's new video slot machine that will drive racing enthusiasts wild.
The drivers are ready at the starting line. They have their eyes on the prize. They are taking deep breaths and their pulses are racing. There's only one goal: winning.
The Valencia-based games company Red Rake Gaming brings innovation to the sector once again with a spectacular video slot machine game featuring a new theme: car racing. As soon as you start playing this 5x3 reel video slot machine, you'll appreciate the aesthetic that pays great attention to detail. The fast-paced music will take you back to the races of the 70s and 80s.
During the game, the drivers appear in reels 1 and 5, triggering the "SpeedRun" feature which starts a thrilling five-car race as the cars leave Wilds along the way.
To make things even more exciting, this brand-new video slot game also features a roulette wheel that appears after collecting several piston symbols and gives prizes on every lap.
Another main feature is its free spins bonus feature in which 'Nitro' multipliers can be collected; these will increase as the side bar increases with each rewarded spin.
Simply put, this is a comprehensive video slot machine that will bring hours of entertainment to all players.
What are you waiting for? The race is about to begin! Increase the revs, push the accelerator and show everyone you are the one and only Speed Hero. ...