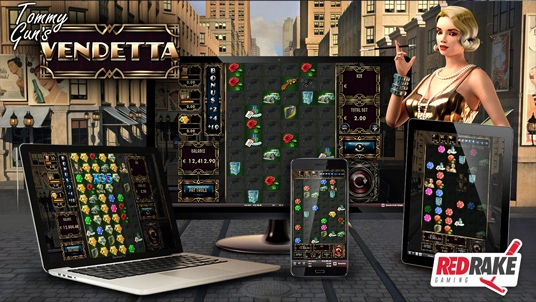 22/April/2021
Tommy Gun's Vendetta, the new videoslot from Red Rake Gaming
The innovative online casino game provider, Red Rake Gaming, has today launched a new 6x10 reel video slot with the popular "1 million ways to win" feature, a free spins feature and three accumulators that grant access to a minigame.
This video slot transports the player to a turbulent nation after the war, where Tommy and his street gang run the city.

One of this slot game's features is the weapon symbols (knuckle duster, knife and Tommy gun), whose purpose is to break up and transform other symbols into big wins.

Another interesting feature is the tobacco, drink and gold symbols, which add to the percentage in the panels after each spin.

When you complete the progress bar for each of these panels, the corresponding minigame is launched where the dark symbols spin and turn into tobacco, drink or gold (as applicable) and grant big wins. Multipliers of x2, x3 or x5 can also appear during this feature, increasing your win from the minigame accordingly.

If 5 or more respins link up during the regular feature then you get access to the "Free Spins Feature". Spins with winning combinations activate the elements from the BONUS panel next to the reels. Once all of them have been activated, the free spins feature will be launched. It will initially begin with 10 free spins, and this can be increased up to a maximum of 20 free spins.

It is a slot game packed with features and a lively soundtrack that encourages you to play. Weapons, gambling, money, tobacco and alcohol all combined in one slot game, where anything goes.

Tommy Gun's Vendetta is being released today, 22 April, although it was already released on 8 April exclusively with certain operators, and has proven very successful. This new slot game is also available on the Red Rake Gaming tournament tool, to add even more excitement.